Event Object
(
    [id:Event:private] => 4531
    [start_date:Event:private] => 
    [end_date:Event:private] => 
    [ended:Event:private] => 
    [title:Event:private] => Rotorua Bike Festival
    [reo_title:Event:private] => Te Ahurei Pahikara o Rotorua
    [primary_category:Event:private] => Array
        (
            [url] => https://www.rotoruanui.nz/event-category/sports/
            [slug] => sports
            [title] => Sports
        )

    [recommended_age:Event:private] => Array
        (
            [all_ages] => 1
            [minimum_age] => 
            [maximum_age] => 
        )

    [age_range:Event:private] => All Ages
    [location:Event:private] => Longmile Road
    [location_full:Event:private] => Longmile Road, Whakarewarewa, Rotorua
    [location_lat_lng:Event:private] => Array
        (
            [lat] => -38.1535094
            [lng] => 176.2764017
        )

    [event_guide_date:Event:private] => 				Various dates between 20 - 23 October			
    [next_occurrence:Event:private] => Array
        (
            [start] => Cake\Chronos\Chronos Object
                (
                    [date] => 2022-10-20 12:00:00.000000
                    [timezone_type] => 3
                    [timezone] => Pacific/Auckland
                )

            [end] => Cake\Chronos\Chronos Object
                (
                    [date] => 2022-10-20 17:00:00.000000
                    [timezone_type] => 3
                    [timezone] => Pacific/Auckland
                )

            [ended] => 
        )

    [first_occurrence:Event:private] => Array
        (
            [start] => Cake\Chronos\Chronos Object
                (
                    [date] => 2022-10-20 12:00:00.000000
                    [timezone_type] => 3
                    [timezone] => Pacific/Auckland
                )

            [end] => Cake\Chronos\Chronos Object
                (
                    [date] => 2022-10-20 17:00:00.000000
                    [timezone_type] => 3
                    [timezone] => Pacific/Auckland
                )

        )

    [last_occurrence:Event:private] => Array
        (
            [start] => Cake\Chronos\Chronos Object
                (
                    [date] => 2022-10-23 09:00:00.000000
                    [timezone_type] => 3
                    [timezone] => Pacific/Auckland
                )

            [end] => Cake\Chronos\Chronos Object
                (
                    [date] => 2022-10-23 17:00:00.000000
                    [timezone_type] => 3
                    [timezone] => Pacific/Auckland
                )

        )

    [single_occurrence:Event:private] => 
    [all_occurrences:Event:private] => Array
        (
            [0] => Array
                (
                    [start] => 2022-10-20 12:00:00
                    [end] => 2022-10-20 17:00:00
                    [canceled] => Array
                        (
                        )

                )

            [1] => Array
                (
                    [start] => 2022-10-21 09:00:00
                    [end] => 2022-10-21 17:00:00
                    [canceled] => Array
                        (
                        )

                )

            [2] => Array
                (
                    [start] => 2022-10-22 09:00:00
                    [end] => 2022-10-22 17:00:00
                    [canceled] => Array
                        (
                        )

                )

            [3] => Array
                (
                    [start] => 2022-10-23 09:00:00
                    [end] => 2022-10-23 17:00:00
                    [canceled] => Array
                        (
                        )

                )

        )

    [header_type:Event:private] => video
    [featured_image:Event:private] => Array
        (
            [ID] => 4530
            [id] => 4530
            [title] => RBF-Logo
            [filename] => RBF-Logo.gif
            [filesize] => 20773
            [url] => https://www.rotoruanui.nz/wp-content/uploads/2021/07/RBF-Logo.gif
            [link] => https://www.rotoruanui.nz/event/rotorua-bike-festival/attachment/rbf-logo/
            [alt] => 
            [author] => 286
            [description] => 
            [caption] => 
            [name] => rbf-logo
            [status] => inherit
            [uploaded_to] => 4531
            [date] => 2021-07-20 00:56:50
            [modified] => 2021-07-20 01:01:50
            [menu_order] => 0
            [mime_type] => image/gif
            [type] => image
            [subtype] => gif
            [icon] => https://www.rotoruanui.nz/wp-includes/images/media/default.png
            [width] => 1000
            [height] => 570
            [sizes] => Array
                (
                    [thumbnail] => https://www.rotoruanui.nz/wp-content/uploads/2021/07/RBF-Logo-150x150.gif
                    [thumbnail-width] => 150
                    [thumbnail-height] => 150
                    [medium] => https://www.rotoruanui.nz/wp-content/uploads/2021/07/RBF-Logo-300x171.gif
                    [medium-width] => 300
                    [medium-height] => 171
                    [medium_large] => https://www.rotoruanui.nz/wp-content/uploads/2021/07/RBF-Logo-768x438.gif
                    [medium_large-width] => 768
                    [medium_large-height] => 438
                    [large] => https://www.rotoruanui.nz/wp-content/uploads/2021/07/RBF-Logo.gif
                    [large-width] => 1000
                    [large-height] => 570
                    [1536x1536] => https://www.rotoruanui.nz/wp-content/uploads/2021/07/RBF-Logo.gif
                    [1536x1536-width] => 1000
                    [1536x1536-height] => 570
                    [2048x2048] => https://www.rotoruanui.nz/wp-content/uploads/2021/07/RBF-Logo.gif
                    [2048x2048-width] => 1000
                    [2048x2048-height] => 570
                    [hero] => https://www.rotoruanui.nz/wp-content/uploads/2021/07/RBF-Logo.gif
                    [hero-width] => 1000
                    [hero-height] => 570
                    [logo] => https://www.rotoruanui.nz/wp-content/uploads/2021/07/RBF-Logo-123x70.gif
                    [logo-width] => 123
                    [logo-height] => 70
                    [event-thumb] => https://www.rotoruanui.nz/wp-content/uploads/2021/07/RBF-Logo-370x211.gif
                    [event-thumb-width] => 370
                    [event-thumb-height] => 211
                    [category-thumb] => https://www.rotoruanui.nz/wp-content/uploads/2021/07/RBF-Logo-200x350.gif
                    [category-thumb-width] => 200
                    [category-thumb-height] => 350
                    [event-news-thumb] => https://www.rotoruanui.nz/wp-content/uploads/2021/07/RBF-Logo-270x190.gif
                    [event-news-thumb-width] => 270
                    [event-news-thumb-height] => 190
                )

        )

    [video:Event:private] => 
    [video_raw:Event:private] => https://www.youtube.com/watch?v=F4pz2T1Nqdk&t=3s
    [video_thumb:Event:private] => http://img.youtube.com/vi/F4pz2T1Nqdk/maxresdefault.jpg
    [header_image:Event:private] => Array
        (
            [0] => Array
                (
                    [ID] => 4530
                    [id] => 4530
                    [title] => RBF-Logo
                    [filename] => RBF-Logo.gif
                    [filesize] => 20773
                    [url] => https://www.rotoruanui.nz/wp-content/uploads/2021/07/RBF-Logo.gif
                    [link] => https://www.rotoruanui.nz/event/rotorua-bike-festival/attachment/rbf-logo/
                    [alt] => 
                    [author] => 286
                    [description] => 
                    [caption] => 
                    [name] => rbf-logo
                    [status] => inherit
                    [uploaded_to] => 4531
                    [date] => 2021-07-20 00:56:50
                    [modified] => 2021-07-20 01:01:50
                    [menu_order] => 0
                    [mime_type] => image/gif
                    [type] => image
                    [subtype] => gif
                    [icon] => https://www.rotoruanui.nz/wp-includes/images/media/default.png
                    [width] => 1000
                    [height] => 570
                    [sizes] => Array
                        (
                            [thumbnail] => https://www.rotoruanui.nz/wp-content/uploads/2021/07/RBF-Logo-150x150.gif
                            [thumbnail-width] => 150
                            [thumbnail-height] => 150
                            [medium] => https://www.rotoruanui.nz/wp-content/uploads/2021/07/RBF-Logo-300x171.gif
                            [medium-width] => 300
                            [medium-height] => 171
                            [medium_large] => https://www.rotoruanui.nz/wp-content/uploads/2021/07/RBF-Logo-768x438.gif
                            [medium_large-width] => 768
                            [medium_large-height] => 438
                            [large] => https://www.rotoruanui.nz/wp-content/uploads/2021/07/RBF-Logo.gif
                            [large-width] => 1000
                            [large-height] => 570
                            [1536x1536] => https://www.rotoruanui.nz/wp-content/uploads/2021/07/RBF-Logo.gif
                            [1536x1536-width] => 1000
                            [1536x1536-height] => 570
                            [2048x2048] => https://www.rotoruanui.nz/wp-content/uploads/2021/07/RBF-Logo.gif
                            [2048x2048-width] => 1000
                            [2048x2048-height] => 570
                            [hero] => https://www.rotoruanui.nz/wp-content/uploads/2021/07/RBF-Logo.gif
                            [hero-width] => 1000
                            [hero-height] => 570
                            [logo] => https://www.rotoruanui.nz/wp-content/uploads/2021/07/RBF-Logo-123x70.gif
                            [logo-width] => 123
                            [logo-height] => 70
                            [event-thumb] => https://www.rotoruanui.nz/wp-content/uploads/2021/07/RBF-Logo-370x211.gif
                            [event-thumb-width] => 370
                            [event-thumb-height] => 211
                            [category-thumb] => https://www.rotoruanui.nz/wp-content/uploads/2021/07/RBF-Logo-200x350.gif
                            [category-thumb-width] => 200
                            [category-thumb-height] => 350
                            [event-news-thumb] => https://www.rotoruanui.nz/wp-content/uploads/2021/07/RBF-Logo-270x190.gif
                            [event-news-thumb-width] => 270
                            [event-news-thumb-height] => 190
                        )

                )

        )

    [logo:Event:private] => 
    [bg_img:Event:private] => http://img.youtube.com/vi/F4pz2T1Nqdk/maxresdefault.jpg
    [price_range:Event:private] => 
    [price_range_output:Event:private] => Range of ticket options available
)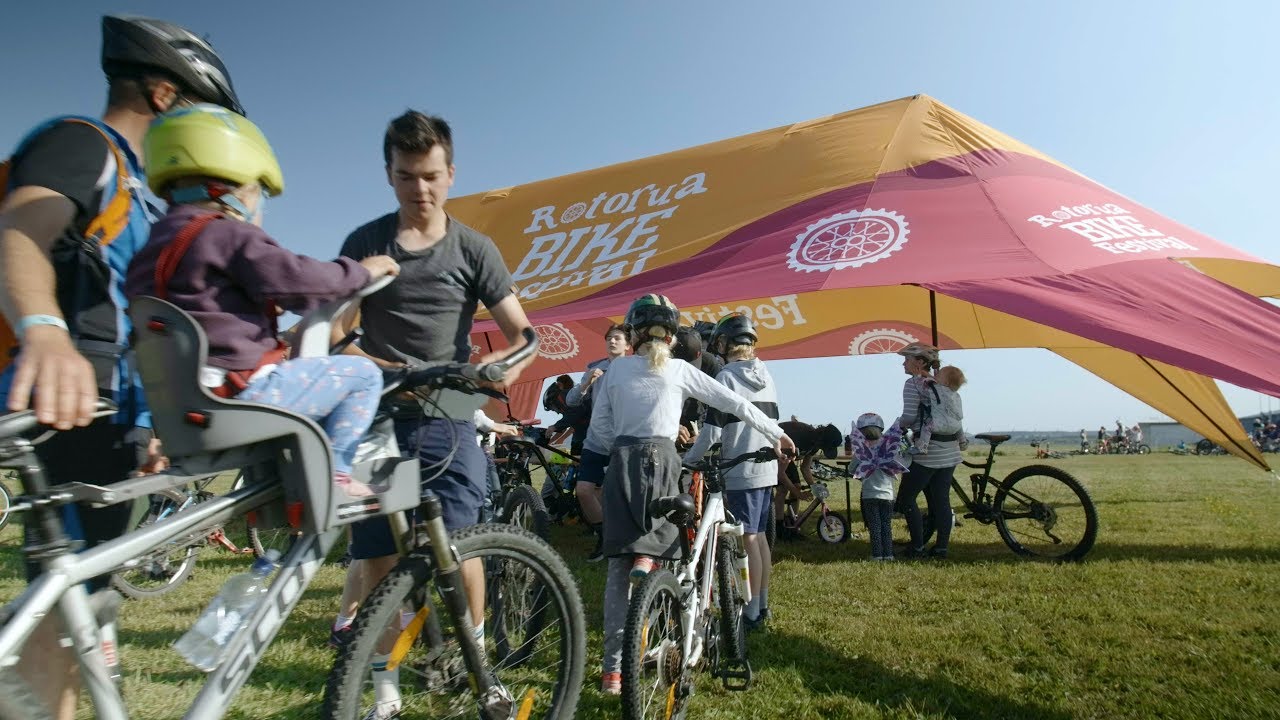 Te Ahurei Pahikara o Rotorua
Rotorua Bike Festival
---
All Ages
Range of ticket options available
---
Start
Thursday 20 Oct. 2022
12:00 pm - 5:00 pm
End
Sunday 23 Oct. 2022
9:00 am - 5:00 pm
---
---
Postponed from February 2022 to Labour Weekend October 2022.
The Rotorua Bike Festival is a celebration of all kinds of cycling for all ages and abilities. From ticketed serious races, to free silly meet-ups and everything fun and social in between. Community and organisations come together to host their own bike-shaped events under the Festival, creating a truly community-led, professionally-supported, four days of awesome.
Check out the event lineup, or submit your own event idea at the official website.