Event Object
(
    [id:Event:private] => 8649
    [start_date:Event:private] => 
    [end_date:Event:private] => 
    [ended:Event:private] => 
    [title:Event:private] => The Nukes – Workshop and Concert
    [reo_title:Event:private] => Patapata Ukurere
    [primary_category:Event:private] => Array
        (
            [url] => https://www.rotoruanui.nz/event-category/performing-arts/
            [slug] => performing-arts
            [title] => Performing Arts
        )

    [recommended_age:Event:private] => Array
        (
            [all_ages] => 1
            [minimum_age] => 
            [maximum_age] => 
        )

    [age_range:Event:private] => All Ages
    [location:Event:private] => Sir Howard Morrison Performing Arts Centre Fenton Street
    [location_full:Event:private] => Sir Howard Morrison Performing Arts Centre Fenton Street, Rotorua
    [location_lat_lng:Event:private] => Array
        (
            [lat] => -38.1354173
            [lng] => 176.2540054
        )

    [event_guide_date:Event:private] => 				Various dates between 6 - 6 October			
    [next_occurrence:Event:private] => Array
        (
            [start] => Cake\Chronos\Chronos Object
                (
                    [date] => 2023-10-06 10:00:00.000000
                    [timezone_type] => 3
                    [timezone] => Pacific/Auckland
                )

            [end] => Cake\Chronos\Chronos Object
                (
                    [date] => 2023-10-06 11:00:00.000000
                    [timezone_type] => 3
                    [timezone] => Pacific/Auckland
                )

            [ended] => 
        )

    [first_occurrence:Event:private] => Array
        (
            [start] => Cake\Chronos\Chronos Object
                (
                    [date] => 2023-10-06 10:00:00.000000
                    [timezone_type] => 3
                    [timezone] => Pacific/Auckland
                )

            [end] => Cake\Chronos\Chronos Object
                (
                    [date] => 2023-10-06 11:00:00.000000
                    [timezone_type] => 3
                    [timezone] => Pacific/Auckland
                )

        )

    [last_occurrence:Event:private] => Array
        (
            [start] => Cake\Chronos\Chronos Object
                (
                    [date] => 2023-10-06 19:00:00.000000
                    [timezone_type] => 3
                    [timezone] => Pacific/Auckland
                )

            [end] => Cake\Chronos\Chronos Object
                (
                    [date] => 2023-10-06 20:20:00.000000
                    [timezone_type] => 3
                    [timezone] => Pacific/Auckland
                )

        )

    [single_occurrence:Event:private] => 
    [all_occurrences:Event:private] => Array
        (
            [0] => Array
                (
                    [start] => 2023-10-06 10:00:00
                    [end] => 2023-10-06 11:00:00
                    [canceled] => Array
                        (
                        )

                )

            [1] => Array
                (
                    [start] => 2023-10-06 17:00:00
                    [end] => 2023-10-06 18:00:00
                    [canceled] => Array
                        (
                        )

                )

            [2] => Array
                (
                    [start] => 2023-10-06 19:00:00
                    [end] => 2023-10-06 20:20:00
                    [canceled] => Array
                        (
                        )

                )

        )

    [header_type:Event:private] => video
    [featured_image:Event:private] => Array
        (
            [ID] => 8644
            [id] => 8644
            [title] => The Nukes nui
            [filename] => The-Nukes-nui.png
            [filesize] => 615314
            [url] => https://www.rotoruanui.nz/wp-content/uploads/2023/08/The-Nukes-nui.png
            [link] => https://www.rotoruanui.nz/event/the-nukes-workshop-and-concert/attachment/the-nukes-nui/
            [alt] => 
            [author] => 29
            [description] => 
            [caption] => 
            [name] => the-nukes-nui
            [status] => inherit
            [uploaded_to] => 8649
            [date] => 2023-08-24 00:28:04
            [modified] => 2023-08-24 00:46:00
            [menu_order] => 0
            [mime_type] => image/png
            [type] => image
            [subtype] => png
            [icon] => https://www.rotoruanui.nz/wp-includes/images/media/default.png
            [width] => 1302
            [height] => 570
            [sizes] => Array
                (
                    [thumbnail] => https://www.rotoruanui.nz/wp-content/uploads/2023/08/The-Nukes-nui-150x150.png
                    [thumbnail-width] => 150
                    [thumbnail-height] => 150
                    [medium] => https://www.rotoruanui.nz/wp-content/uploads/2023/08/The-Nukes-nui-300x131.png
                    [medium-width] => 300
                    [medium-height] => 131
                    [medium_large] => https://www.rotoruanui.nz/wp-content/uploads/2023/08/The-Nukes-nui-768x336.png
                    [medium_large-width] => 768
                    [medium_large-height] => 336
                    [large] => https://www.rotoruanui.nz/wp-content/uploads/2023/08/The-Nukes-nui-1024x448.png
                    [large-width] => 1024
                    [large-height] => 448
                    [1536x1536] => https://www.rotoruanui.nz/wp-content/uploads/2023/08/The-Nukes-nui.png
                    [1536x1536-width] => 1302
                    [1536x1536-height] => 570
                    [2048x2048] => https://www.rotoruanui.nz/wp-content/uploads/2023/08/The-Nukes-nui.png
                    [2048x2048-width] => 1302
                    [2048x2048-height] => 570
                    [hero] => https://www.rotoruanui.nz/wp-content/uploads/2023/08/The-Nukes-nui.png
                    [hero-width] => 1302
                    [hero-height] => 570
                    [logo] => https://www.rotoruanui.nz/wp-content/uploads/2023/08/The-Nukes-nui-160x70.png
                    [logo-width] => 160
                    [logo-height] => 70
                    [event-thumb] => https://www.rotoruanui.nz/wp-content/uploads/2023/08/The-Nukes-nui-370x162.png
                    [event-thumb-width] => 370
                    [event-thumb-height] => 162
                    [category-thumb] => https://www.rotoruanui.nz/wp-content/uploads/2023/08/The-Nukes-nui-200x350.png
                    [category-thumb-width] => 200
                    [category-thumb-height] => 350
                    [event-news-thumb] => https://www.rotoruanui.nz/wp-content/uploads/2023/08/The-Nukes-nui-270x190.png
                    [event-news-thumb-width] => 270
                    [event-news-thumb-height] => 190
                )

        )

    [video:Event:private] => 
    [video_raw:Event:private] => https://youtu.be/bouIQUiZmig
    [video_thumb:Event:private] => http://img.youtube.com/vi/bouIQUiZmig/maxresdefault.jpg
    [header_image:Event:private] => Array
        (
            [0] => Array
                (
                    [ID] => 8647
                    [id] => 8647
                    [title] => The Nukes 3
                    [filename] => The-Nukes-3.jpg
                    [filesize] => 374630
                    [url] => https://www.rotoruanui.nz/wp-content/uploads/2023/08/The-Nukes-3.jpg
                    [link] => https://www.rotoruanui.nz/the-nukes-3/
                    [alt] => 
                    [author] => 29
                    [description] => 
                    [caption] => 
                    [name] => the-nukes-3
                    [status] => inherit
                    [uploaded_to] => 0
                    [date] => 2023-08-24 00:43:44
                    [modified] => 2023-08-24 00:43:44
                    [menu_order] => 0
                    [mime_type] => image/jpeg
                    [type] => image
                    [subtype] => jpeg
                    [icon] => https://www.rotoruanui.nz/wp-includes/images/media/default.png
                    [width] => 768
                    [height] => 960
                    [sizes] => Array
                        (
                            [thumbnail] => https://www.rotoruanui.nz/wp-content/uploads/2023/08/The-Nukes-3-150x150.jpg
                            [thumbnail-width] => 150
                            [thumbnail-height] => 150
                            [medium] => https://www.rotoruanui.nz/wp-content/uploads/2023/08/The-Nukes-3-240x300.jpg
                            [medium-width] => 240
                            [medium-height] => 300
                            [medium_large] => https://www.rotoruanui.nz/wp-content/uploads/2023/08/The-Nukes-3.jpg
                            [medium_large-width] => 768
                            [medium_large-height] => 960
                            [large] => https://www.rotoruanui.nz/wp-content/uploads/2023/08/The-Nukes-3.jpg
                            [large-width] => 768
                            [large-height] => 960
                            [1536x1536] => https://www.rotoruanui.nz/wp-content/uploads/2023/08/The-Nukes-3.jpg
                            [1536x1536-width] => 768
                            [1536x1536-height] => 960
                            [2048x2048] => https://www.rotoruanui.nz/wp-content/uploads/2023/08/The-Nukes-3.jpg
                            [2048x2048-width] => 768
                            [2048x2048-height] => 960
                            [hero] => https://www.rotoruanui.nz/wp-content/uploads/2023/08/The-Nukes-3-768x570.jpg
                            [hero-width] => 768
                            [hero-height] => 570
                            [logo] => https://www.rotoruanui.nz/wp-content/uploads/2023/08/The-Nukes-3-56x70.jpg
                            [logo-width] => 56
                            [logo-height] => 70
                            [event-thumb] => https://www.rotoruanui.nz/wp-content/uploads/2023/08/The-Nukes-3-216x270.jpg
                            [event-thumb-width] => 216
                            [event-thumb-height] => 270
                            [category-thumb] => https://www.rotoruanui.nz/wp-content/uploads/2023/08/The-Nukes-3-200x350.jpg
                            [category-thumb-width] => 200
                            [category-thumb-height] => 350
                            [event-news-thumb] => https://www.rotoruanui.nz/wp-content/uploads/2023/08/The-Nukes-3-270x190.jpg
                            [event-news-thumb-width] => 270
                            [event-news-thumb-height] => 190
                        )

                )

            [1] => Array
                (
                    [ID] => 8648
                    [id] => 8648
                    [title] => The Nukes 2
                    [filename] => The-Nukes-2.jpg
                    [filesize] => 108667
                    [url] => https://www.rotoruanui.nz/wp-content/uploads/2023/08/The-Nukes-2.jpg
                    [link] => https://www.rotoruanui.nz/the-nukes-2/
                    [alt] => 
                    [author] => 29
                    [description] => 
                    [caption] => 
                    [name] => the-nukes-2
                    [status] => inherit
                    [uploaded_to] => 0
                    [date] => 2023-08-24 00:44:48
                    [modified] => 2023-08-24 00:44:48
                    [menu_order] => 0
                    [mime_type] => image/jpeg
                    [type] => image
                    [subtype] => jpeg
                    [icon] => https://www.rotoruanui.nz/wp-includes/images/media/default.png
                    [width] => 1000
                    [height] => 750
                    [sizes] => Array
                        (
                            [thumbnail] => https://www.rotoruanui.nz/wp-content/uploads/2023/08/The-Nukes-2-150x150.jpg
                            [thumbnail-width] => 150
                            [thumbnail-height] => 150
                            [medium] => https://www.rotoruanui.nz/wp-content/uploads/2023/08/The-Nukes-2-300x225.jpg
                            [medium-width] => 300
                            [medium-height] => 225
                            [medium_large] => https://www.rotoruanui.nz/wp-content/uploads/2023/08/The-Nukes-2-768x576.jpg
                            [medium_large-width] => 768
                            [medium_large-height] => 576
                            [large] => https://www.rotoruanui.nz/wp-content/uploads/2023/08/The-Nukes-2.jpg
                            [large-width] => 1000
                            [large-height] => 750
                            [1536x1536] => https://www.rotoruanui.nz/wp-content/uploads/2023/08/The-Nukes-2.jpg
                            [1536x1536-width] => 1000
                            [1536x1536-height] => 750
                            [2048x2048] => https://www.rotoruanui.nz/wp-content/uploads/2023/08/The-Nukes-2.jpg
                            [2048x2048-width] => 1000
                            [2048x2048-height] => 750
                            [hero] => https://www.rotoruanui.nz/wp-content/uploads/2023/08/The-Nukes-2-1000x570.jpg
                            [hero-width] => 1000
                            [hero-height] => 570
                            [logo] => https://www.rotoruanui.nz/wp-content/uploads/2023/08/The-Nukes-2-93x70.jpg
                            [logo-width] => 93
                            [logo-height] => 70
                            [event-thumb] => https://www.rotoruanui.nz/wp-content/uploads/2023/08/The-Nukes-2-360x270.jpg
                            [event-thumb-width] => 360
                            [event-thumb-height] => 270
                            [category-thumb] => https://www.rotoruanui.nz/wp-content/uploads/2023/08/The-Nukes-2-200x350.jpg
                            [category-thumb-width] => 200
                            [category-thumb-height] => 350
                            [event-news-thumb] => https://www.rotoruanui.nz/wp-content/uploads/2023/08/The-Nukes-2-270x190.jpg
                            [event-news-thumb-width] => 270
                            [event-news-thumb-height] => 190
                        )

                )

        )

    [logo:Event:private] => Array
        (
            [ID] => 8645
            [id] => 8645
            [title] => UkeBox white
            [filename] => UkeBox-white.png
            [filesize] => 78883
            [url] => https://www.rotoruanui.nz/wp-content/uploads/2023/08/UkeBox-white.png
            [link] => https://www.rotoruanui.nz/event/the-nukes-workshop-and-concert/attachment/ukebox-white/
            [alt] => 
            [author] => 29
            [description] => 
            [caption] => 
            [name] => ukebox-white
            [status] => inherit
            [uploaded_to] => 8649
            [date] => 2023-08-24 00:36:51
            [modified] => 2023-08-24 00:46:00
            [menu_order] => 0
            [mime_type] => image/png
            [type] => image
            [subtype] => png
            [icon] => https://www.rotoruanui.nz/wp-includes/images/media/default.png
            [width] => 306
            [height] => 307
            [sizes] => Array
                (
                    [thumbnail] => https://www.rotoruanui.nz/wp-content/uploads/2023/08/UkeBox-white-150x150.png
                    [thumbnail-width] => 150
                    [thumbnail-height] => 150
                    [medium] => https://www.rotoruanui.nz/wp-content/uploads/2023/08/UkeBox-white-300x300.png
                    [medium-width] => 300
                    [medium-height] => 300
                    [medium_large] => https://www.rotoruanui.nz/wp-content/uploads/2023/08/UkeBox-white.png
                    [medium_large-width] => 306
                    [medium_large-height] => 307
                    [large] => https://www.rotoruanui.nz/wp-content/uploads/2023/08/UkeBox-white.png
                    [large-width] => 306
                    [large-height] => 307
                    [1536x1536] => https://www.rotoruanui.nz/wp-content/uploads/2023/08/UkeBox-white.png
                    [1536x1536-width] => 306
                    [1536x1536-height] => 307
                    [2048x2048] => https://www.rotoruanui.nz/wp-content/uploads/2023/08/UkeBox-white.png
                    [2048x2048-width] => 306
                    [2048x2048-height] => 307
                    [hero] => https://www.rotoruanui.nz/wp-content/uploads/2023/08/UkeBox-white.png
                    [hero-width] => 306
                    [hero-height] => 307
                    [logo] => https://www.rotoruanui.nz/wp-content/uploads/2023/08/UkeBox-white-70x70.png
                    [logo-width] => 70
                    [logo-height] => 70
                    [event-thumb] => https://www.rotoruanui.nz/wp-content/uploads/2023/08/UkeBox-white-269x270.png
                    [event-thumb-width] => 269
                    [event-thumb-height] => 270
                    [category-thumb] => https://www.rotoruanui.nz/wp-content/uploads/2023/08/UkeBox-white-200x307.png
                    [category-thumb-width] => 200
                    [category-thumb-height] => 307
                    [event-news-thumb] => https://www.rotoruanui.nz/wp-content/uploads/2023/08/UkeBox-white-270x190.png
                    [event-news-thumb-width] => 270
                    [event-news-thumb-height] => 190
                )

        )

    [bg_img:Event:private] => http://img.youtube.com/vi/bouIQUiZmig/maxresdefault.jpg
    [price_range:Event:private] => 
    [price_range_output:Event:private] => Range of ticket options available
)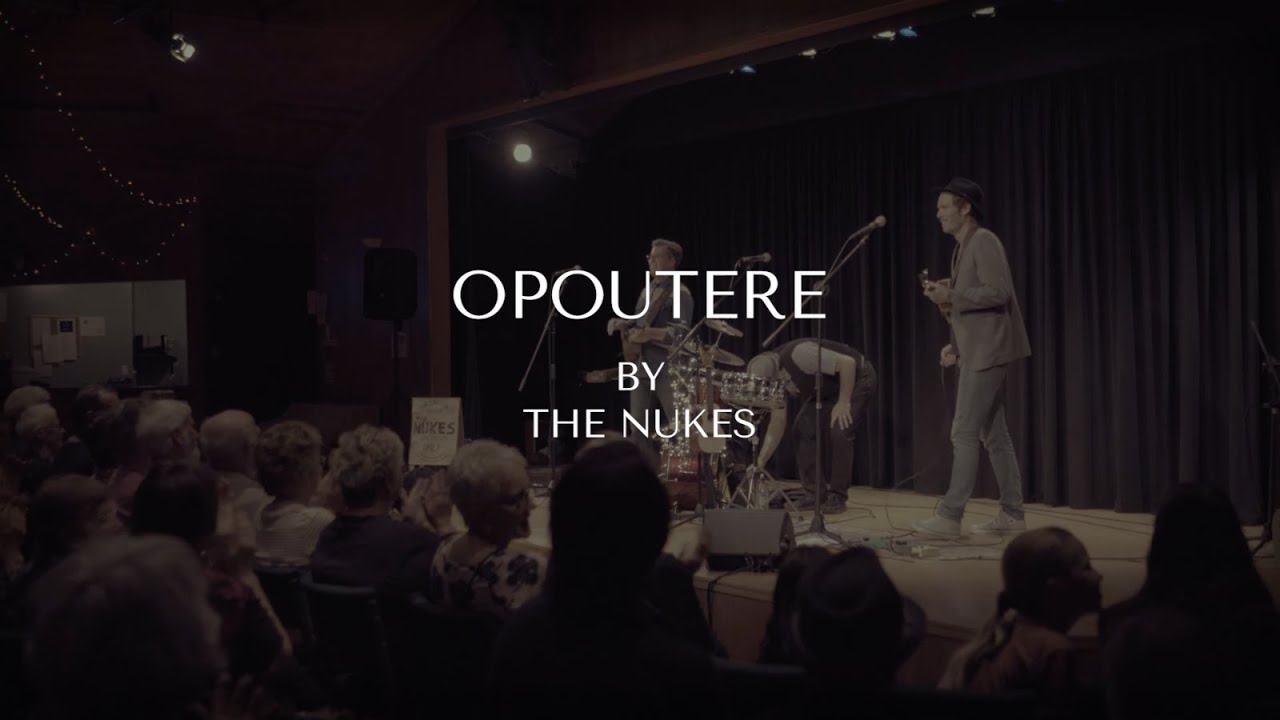 Patapata Ukurere
The Nukes – Workshop and Concert
---
All Ages
Range of ticket options available
Book Now
---
Start
Friday 6 Oct. 2023
10:00 am - 11:00 am
End
Friday 6 Oct. 2023
7:00 pm - 8:20 pm
---
---
Mobility accessible
Hearing aid loop performances
After a sold out performance last visit, The Nukes are back in the fabulous Sir Howard Morrison Centre, Rotorua for one day only! Super school holiday workshop and family concert or adults workshop and show. Ticket prices and details below. Tickets available soon.
The Nukes, Aotearoa's/NZ's most beloved and enduring 'original ukulele trio'. For more than 10 years this unlikely league of musical miscreants has traipsed around Australasia, bringing joy and harmony to all they encounter. With 3 compelling albums of their self-penned tunes as proof of their creative endeavours; and well over 100,000 streams and views.
At the helm is Dave Parker, inveigling with a sparkling voice and a compelling custom uke sound that commands respect. Swabbing the decks is young Joshie P, while the audacious slide ukulele and wry humour of Ben Collier keep the whole shebang on an even keel. It's original, quirky and Kiwi. If you see that The Nukes are coming your way, don't duck and cover, don't try and be a hero.. Just gather all your friends and head for ground zero.
The Nukes have appeared at WOMAD NZ , SPLORE , Auckland and Canterbury Folk Festivals , New Plymouth Festival Of Light , Wanaka Festival Of Colour, Coastella Festival , Southland Festival Of Arts , Bluff Oyster Festival and a successful nationwide Arts On Tour NZ March 2017, They have also toured extensively in Australia.
Tickets available soon:
Afternoon Adult workshop: 5pm – 6pm (1 hour duration) – $20 (+charges)
Nukes in Concert: Evening Show: 7pm – 8.20pm (80 mins duration) – $30 (+ charges)
COMBO: Adult Workshop and Show – $40 (+ charges )
Kids workshop: 10am – 11 am $15 (+ charges) includes participation in the Big Family Show
Big Family show: 11.30am 12.30pm – $20 per Adult (+ charges) / Child 13+ $10 (+ charges)
All Children under 12 free with a paying adult, otherwise $10 (+ charges)